Über Nifty
Nifty ist ein New-Wave-Projektmanagement-Tool, das Projektentwicklungszyklen verkürzt und die Teamproduktivität verbessert, indem alle wichtigen Funktionen des Projektmanagements in einer Software kombiniert werden. Das Endergebnis ist ein Meilenstein-gesteuerter Fortschritt, der die Teams inspiriert und sicherstellt, dass die Unternehmensziele innerhalb des Zeitplans erreicht werden. Mit der Software von Nifty kannst du Aufgaben sowohl über die Kanban- als auch über die Listenansicht verwalten. Der Kalender kann in Google integriert werden und die Anwendung bietet zudem Datei- und Dokumentenfreigabe. Die Kollaboration auf Nifty laut ganz natürlich ab, da jedes Projekt einen individuellen Diskussions-Thread hat, der die projektspezifische Kommunikation fördert. Nifty verfügt auch über eine Integration mit GitHub, die Nifty einzigartig macht, da die Anwendung so die abteilungsübergreifende Kollaboration wie keine andere fördert.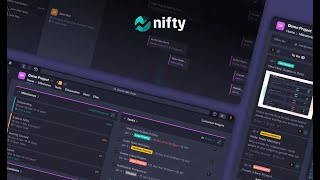 Nifty bietet eine Gratisversion und eine kostenlose Testversion. Die kostenpflichtige Version von Nifty ist ab 5,00 $/Monat verfügbar.
Kostenlose Testversion:
Ja
Branche: Marketing & Werbung
Unternehmensgröße: 2–10 Mitarbeiter

Täglich

für

1-5 Monate

genutzt
Quelle der Bewertung
Preis-Leistungs-Verhältnis
5
---
Congratulations! You Found The Best PM Software Available!
I had the pleasure of talking with the [SENSITIVE CONTENT HIDDEN]! Not only is the software itself extremely value-based, but the customer support that is included also goes beyond expectations. I am happy to support his company, and recommend you do the same!
Vorteile
Luckily, my team and I were able to find Nifty right before we committed to a competitor which would have increased our overhead substantially. Compared to the 3,000 Dollar Annual Fee + the 7,000 Dollar overhead, it was really a tough pill for us to swallow. Before we bit the bullet, Nifty found it's way to me and let me tell you as a Project Manager and Operations Officer, Nifty lives up to its name. I could go on about the features, but the best part of the software is its multitude of integrations. Softwares like Trello, Basecamp, and Zoom are already integrated. This isn't a PM software your team will just refer to once a day, it's a platform from which your team can not only communicate, but work together and collaborate to complete projects, tasks, and goals.
Nachteile
The only problem with project management is getting a team to utilize new PM Software. Luckily, the support team is there to make sure your company's transition is as smooth as possible.
In Betracht gezogene Alternativen
Wrike
Warum Nifty gewählt wurde
Pricing. Nifty even offered a lifetime deal which is beyond a good deal.
Zuvor genutzte Software
Wrike
Gründe für den Wechsel zu Nifty
Pricing
Branche: Design
Unternehmensgröße: 2–10 Mitarbeiter

Täglich

für

Mehr als 2 Jahre

genutzt
Quelle der Bewertung
Preis-Leistungs-Verhältnis
5
---
Feature-packed yet simple to use
A pleasure to work with, and something we rely on daily for our workflow.
Vorteile
The app has everything you need to manage a suite of projects from different clients in an interface that just makes sense. And constant updates being new exciting features often.
Nachteile
Automations are great, but there are some simple things that should be improved like the ability to remove dates
In Betracht gezogene Alternativen
ClickUp
Warum Nifty gewählt wurde
Nifty supported the next level in our growth.
Zuvor genutzte Software
Trello
Gründe für den Wechsel zu Nifty
Simpler, faster, and easier to use
Branche: Übersetzung und Lokalisierung
Unternehmensgröße: 2–10 Mitarbeiter

Täglich

für

1-5 Monate

genutzt
Quelle der Bewertung
Preis-Leistungs-Verhältnis
2
---
Looked greener, but totally failing
Basically, terrible. The customer support was helpful at first, and now they just kind of leave our issues hanging and close the ticket. I've asked for a refund, as we would really like to leave the platform, but we cannot get one. We're stuck, and that's about it.
Vorteile
The top-down task view was great at first, and exactly what we were looking for.
Nachteile
After signing up, we found that with a lot of tasks, Nifty bogs down and has to take a lot of time to load things. Moving things around is sluggish and painful. The top-down task view doesn't add new projects as you add them - you have to go back and readd them to the filter.
There are a lot of terrible quirks, like the ios app, like the sidebar disappearing and such. On PC, the sidebar constantly reloads, and kicks you off the page. There are no notifications for DMs on the platform, so you can't go back through your daily messages unless you sign up for email notifications, and even then if you accidentally checked it there's no way to reset it.
Adding people to teams is easy enough for the administrator, but people won't see notifications in the chat until they initially click on it. The task does not automatically notify the next person on the list even if there's a dependency. The only way to get it to notify someone is through the kanan.
DM windows are too small and unnoticeable. The UI for the my calendar is terrible, since filters from my tasks or even all tasks can affect it. We have to constantly check if filters have been set up right.
The tasks list by tag number by default instead of the way you arrange them in the list, making it easy to miss deadlines. You have to sort the list by deadline every time you enter a particular project, and when you have 50+ projects, it's just inane.
Nifty does not offer refunds.
Branche: Computerspiele
Unternehmensgröße: 1.001–5.000 Mitarbeiter

Täglich

für

Mehr als 1 Jahr

genutzt
Quelle der Bewertung
Preis-Leistungs-Verhältnis
4
---
The best project management and task tracking tool
As a project management tool, Nifty ranks among the best I've used. And it makes teamwork simpler than with any other tool out there. Monitoring how long it takes to complete individual jobs is another useful performance management tool.
Vorteile
When it comes to the complexity of coordinating many projects, Nifty is taking the easy way out. It's great to see that they've integrated useful features from a variety of platforms while keeping the user interface (UI) straightforward.
Nachteile
We were not given the option to record voice notes, which would have been helpful in communicating the assignment to the rest of the team.
Branche: Einzelhandel
Unternehmensgröße: 5.001–10.000 Mitarbeiter

Täglich

für

Mehr als 1 Jahr

genutzt
Quelle der Bewertung
Preis-Leistungs-Verhältnis
4
---
Increased productivity and effortless task management
Because of the platform's intuitive design and user-friendly interface, team members can rapidly learn to utilize it and get back to work on their projects.
Vorteile
Nifty lets you divide up large projects into smaller, more manageable chunks by creating tasks and subtasks. The structured hierarchy aids communication and ensures everyone knows their place.
Nachteile
Nifty has many useful features, however some customers may wish for even more flexibility so they can make the platform work for their specific needs in terms of project management.