Über JumpCloud Directory Platform
JumpCloud Directory-as-a-Service ist eine IT-Management-Software, mit der Unternehmen jeder Größe Geräte oder Workstations wie Windows, MacOS und Linux verwalten und auf IT-Ressourcen und Nutzeridentitäten zugreifen können. Die Lösung bietet eine zentralisierte Identität, mit der Admins Systemsicherheitsrichtlinien, Multi-Faktor-Authentifizierungsprozesse und öffentliche SSH-Schlüssel verwalten können. Fachkräfte können das Selfserviceportal nutzen, um Befehle auf mehreren Servern auszuführen, die Dateispeicherinfrastruktur zu steuern und Nutzer als Einzelperson oder Teil von Gruppen zu verwalten. JumpCloud Directory-as-a-Service bietet Single-Sign-On-Funktionen für den Zugriff auf verschiedene Anwendungen wie Slack, Zendesk, Meraki, GitHub, Dropbox und weitere. Darüber hinaus können Führungskräfte die Aktivitäten der Mitarbeitenden über mehrere Endpunkte hinweg überwachen. JumpCloud Directory-as-a-Service bietet eine API, mit der Unternehmen das System in verschiedene Drittanbieteranwendungen wie G-Suite, Azure Active Directory, Workday und andere integrieren können. Das Produkt ist als Monats- oder Jahresabonnement erhältlich. Der Support erfolgt über FAQs, Wissensdatenbank, E-Mail und andere Onlineressourcen.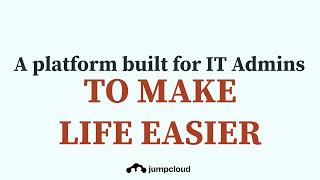 JumpCloud Directory Platform Preis
JumpCloud Directory Platform bietet eine Gratisversion und eine kostenlose Testversion. Die kostenpflichtige Version von JumpCloud Directory Platform ist ab 2,00 $/Monat verfügbar.
Alternativen für JumpCloud Directory Platform
JumpCloud Directory Platform Erfahrungen
Branche: Informationstechnologie & -dienste
Unternehmensgröße: 2-10 Mitarbeiter

Täglich

für

1-5 Monate

genutzt
Quelle der Bewertung
Preis-Leistungs-Verhältnis
5
---
Great LDAP solutions for small businesses
Small businesses that need to become more operational mature in handling their staff and managing users but maybe can't afford an on premise Windows server or want to keep everything in the cloud - this is where JumpCloud reigns supreme.
Vorteile
The price is probably number 1 thing i like! Free for under 10 users. A great way for me as an IT professional to help smaller businesses get onto a stable platform for properly managing their users and devices, with room to expand as their companies grow. Great integrations with other apps (we use Office365 for most clients). With JumpCloud a small company really doesn't need a Windows Active Directory server on premises any longer.
Nachteile
No customer service for the free licenses - I get why, but I don't have to like it. It would be less annoying if the knowledgebase was a bit streamlined better. Can be difficult to find How-To information. Usually the article is there but is not intuitive and easy to find.
Gründe für den Wechsel zu JumpCloud Directory Platform
Way more streamlined and easier to use then Azure Active Directory. Okta I hear is great for SSO but doesn't do what JumpCloud does when it comes to LDAP integrations, at least from what I could see.
Branche: Computer-Software
Unternehmensgröße: 51-200 Mitarbeiter

Täglich

für

6-12 Monate

genutzt
Quelle der Bewertung
Preis-Leistungs-Verhältnis
5
---
Look out Microsoft AD...
I was hired into my organization to bring on a directory platform and consolidate our IT practices among users and computers. I came from a microsoft active directory shop, but my new company was not interested in AD. That was a seemingly tall task, until I found JumpCloud. I thoroughly enjoy coming into work and using jumpcloud to build the next era of our IT practices and procedures. We are primarily focused on SSO at the moment, and that is proving to be very simple to configure. I am looking forward to getting devices managed with JC in the next coming months using their pre-defined policies, as well as their command runner feature and powershell module. JumpCloud will soon be a serious competitor to Microsoft's admin suite, and I am very happy to be on board.
Vorteile
SSO integrations are incredibly easy to configure, no matter if you are using a prebuilt configuration or need to make a custom connector. Having SSO, LDAP, Radius, MFA in the same platform as device authentication and configuration policies is something I have not found outside of Microsoft AD and JumpCloud. There are remote management and monitoring tools out there that claim to do these things, but so far JumpCloud has proven to be incredibly simple. I am constantly amazed that my tests just work within the first few tries. I am used to Microsoft environments where testing gets very tedious and gives minimal feedback on how to make things work. JumpCloud supports MacBooks like a champion. If your office is heavily invested in MacBooks, and you are looking for an easy way to centrally manage authentication and hardening, JumpCloud is the tool for you. By far my favorite feature is "Submit an idea" right in the admin console. You get the sense that they really care about their admins and want to make a tool that is always getting better.
Nachteile
1) No nested user groups! I feel this is essential for identity and access governance.
2) The device policies that they have available cover a lot of the base security hardening needs, but I am excited to see just how much of the various supported OS jumpcloud will eventually be able to tap into. I would love to see JC mirror Active Directory Group Policies as much as possible, and continue to get more configurations added for MacOS.
3) iOS and Android devices are not able to be managed by JumpCloud, but I have been told this is coming by the end of 2021/early 2022.
4) Only TOTP MFA is supported for the admin console, and after getting SSO set up on a lot of tools the pain of that is getting to me, but I know they are working on this feature as well.
5) I personally believe that a remote desktop tool would make JumpCloud the king of IT tools.
Warum JumpCloud Directory Platform gewählt wurde
The criteria for my search was an IDP for SSO. Device management was a nice-to-have, down-the-road goal, and Microsoft AD was off the table. After finding JumpCloud it was a breeze to convince my higher-ups that Device Management could and should be a top priority along with identity and SSO. We were using Jamf for Macs, and had no central management for Windows devices. With jumpcloud those are all in one place.
Gründe für den Wechsel zu JumpCloud Directory Platform
Simple: Identity, access, device management all in one platform. Okta - only Identity. If you want to manage devices you need to integrate another platform. We wanted one tool. Jamf - No Windows support, no identity or access management. Google Workspace - No laptop support. Workspace One - Not an actual identity provider, device management was not as simple as JumpCloud. Kaseya - Clunky, heavily dependent on computers being tied to a domain, which we don't have.
Branche: Unterhaltung
Unternehmensgröße: 2-10 Mitarbeiter

Monatlich

für

1-5 Monate

genutzt
Quelle der Bewertung
Preis-Leistungs-Verhältnis
5
---
Support is the real MVP at JumpCloud!
I was using JumpCloud LDAP for a Company's many IT devices and providing staff permissions and access to several intranet websites via single-sign-on. I very much appreciated the 10 free users, as this made it possible to configure the environment fully at a micro-scale for no cost, before onboarding our entire team. While I could have provided LDAP and SSO from on-premise infrastructure, JumpCloud provided an entry point into this ecosystem that was relatively new to me and also the security and stability of knowing that our business-necessary services would remain accessible in case of an on-premise server error.
Vorteile
JumpCloud has excellent support. I was using JumpCloud's LDAP as a service and encountered an issue early on where I suddenly could not view my tenants. Normally, this would be a negative thing, but Support quickly diagnosed the issue as being on their end, and escalated my ticket, at 2 AM Eastern. Knowing it was out of my control and assuming that our services would just start working again when it was resolved, I went to bed and woke up to an email from my support tech. The email had been sent one hour later and informed me the issue should be resolved and to please try again. It worked flawlessly from then on, and I only stopped using it because the business I was integrating it into announced it was closing. Will definitely use JumpCloud again next time I need SSO.
Nachteile
I found the JumpCloud interface confusing at times. Accessing a Tennant locked me into viewing only that tenant's data and enabled services, which became an issue as I was trying to activate certain services on that tenant and could find no way to do that from the Master Administrator interface. I would love to see more in-depth instructional videos on their YouTube, as these seem like common things to need to do. Still, considering the responsiveness of support, if the project had not shut down I'm sure I would have been able to learn the interface fairly quickly.
Branche: Design
Unternehmensgröße: 11-50 Mitarbeiter

Täglich

für

Mehr als 2 Jahre

genutzt
Quelle der Bewertung
Preis-Leistungs-Verhältnis
3
---
Works well until it doesn't, then it'll take a long time to get right.
Vorteile
Seamless, Platform agnostic SSO and User account management. Cloud LDAP Sync to MS and Google. Does what it says on the tin, Managing Admin and User access is a breeze as is tracking our company assets while working from home. Highly portable (our workforce all WFH as primary place of work since Covid).
Nachteile
Mac installer is a bit temperamental. Console on mobile is not responsive.
Clears saved payment details without warning.
Customer Service takes ages (no international support outside US business hours), we had our account suspended and it took over 5 days to get access to our businesses IT SSO.
Gründe für den Wechsel zu JumpCloud Directory Platform
Fulfilled the MDM and SSO requirements of the business
Branche: Hausmeisterservice
Unternehmensgröße: 501-1.000 Mitarbeiter

Täglich

für

Mehr als 2 Jahre

genutzt
Quelle der Bewertung
Preis-Leistungs-Verhältnis
5
---
JumpCloud enables remote Workforce
The problem that I'm solving is inherent in how we built our business. We have offices around the world, work from anywhere culture, and many cloud bases "as-a-service" solutions that allow us to be agile. JumpCloud allows our IT to be more agile.
Vorteile
I like the flexibility in deployment and can use the features at my own pace. For example, integrating JumpCloud to manage Google Workspace while retaining Google Sign-In keeps the employee experience the same while allowing my IT teams to manage the workforce more efficiently. Another feature that I find most valuable is the device management solution, specifically Windows. We can deploy and control systems in seconds from anywhere in the world.
Nachteile
Directory Insights, a valuable tool for me, is still not polished enough. I would love to see more filtering, custom query building, reporting, and the ability to create alerts.
In Betracht gezogene Alternativen
Okta
Gründe für den Wechsel zu JumpCloud Directory Platform
Ease of onboarding, price, support experience, feature and delivery road-map.