Über Insta
Insta by Proctor is a hospital management software with integrated EMR (electronic medical records), revenue cycle management, radiology management and inventory control. The all-in-one hospital management solution allows healthcare professionals to manage the patient experience whilst controlling day-to-day operations, from one centralized platform. Insta empowers healthcare providers with tools for digitizing workflows, engaging patients, boosting productivity, and gaining insight into company performance. Insta's revenue cycle management module allows healthcare businesses to manage financial processes relating to taxation, insurance, pre-authorizations, claim submissions, remittance reconciliation, and more. The clinical solutions allow users to manage ambulatory, inpatient, and surgery operations through tools such as triaging, admission management, discharge management, surgery scheduling, and more. The electronic medical records allow doctors to input data about patient diagnostics and treatments and make notes before, during or after appointments.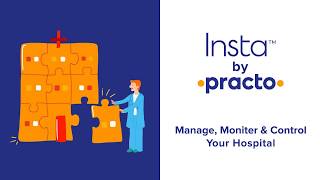 Insta bietet keine Gratisversion, aber eine kostenlose Testversion. Die kostenpflichtige Version von Insta ist ab 50,00 $/Monat verfügbar.
Startpreis:
50,00 $/Monat
Kostenlose Testversion:
Ja
Preis-Leistungs-Verhältnis
0
---
HMS - REVIEW
When we talk about effective management of hospitals and provide enhance quality care and to deal with challenges and curtail hospital management cost and time , ensuring timely availability of financial , Operational & clinical information, supplies , organized utilization of resources and extended reach to identify the potential of the organization and to forecast future plans .
All this and many more we have achieved in last 3 years with INSTA Health , the robust and extensively flexibility to tailor made the software based on the process flow has made substantial output with desired results . The simplicity in usages and user friendly features has help us increasing data accuracy and prompt data gathering and analysis.
The Advance robust architecture complies with industry standards, the application provides investments protection for the future while enabling collaboration and enhancement with ease.
Electronic Medical Record and easy customization of OP templates has increases the Physician comfort, facilitating more of evidence based practices.
Real time information for better decision making and optimal usages of resources
Though in the ever changing progressive health care IT with introduction of new technologies and enhancements in the field of health care research and outlook towards clinical outcomes to render the best care to our patients. we are looking for more of specific renal care structure with effective utilisation of the data we generate to analysis then in more organised manner in EMR and Medical Records with specific intelligence that suite the business & clinical requirements of our organisation
We have a lot more to achieve and create in course of our journey to be the best renal care provider , the strength that stand out are :
The robust architecture and the customised design has allow us with the flexibility of define , designing and implementing the Information system with
a) Clinical Lab result to have data help in interpreting renal health of a patient
b) On Line Purchase and integrated system to control inventory
c) Accuracy in data analysis and rate plan management
d) Email gateway to have uniform Report format
e) SMS gate Way
f) Patient Feed Back Module
g) Enhanced EMR with customised Template of Dialysis Summary Reporting
h) HD Scheduler to decrease waiting time and increase foot fall
Antwort von

Insta Health Solutions

Thanks Soumyajit for the appreciative feedback.

Beantwortet am 28.8.2014
Branche: Krankenhausversorgung & Gesundheitswesen
Unternehmensgröße: 1.001-5.000 Mitarbeiter

Täglich

für

Mehr als 1 Jahr

genutzt
Quelle der Bewertung
Preis-Leistungs-Verhältnis
5
---
Simple and user friendly HMS
We were looking for a HMS for our 160 bedded hospital. We had requested Insta HMS for demo. The demo was conducted and all features explained. There was a site visit where Insta had arranged for a thorough demo. There was pre-implementation visit. The implementation executive was knowledgeable and the migration was smooth. A few requirements specific to our hospital were also implemented. The implementation team and remote team were very cooperative. The customer support is cooperative. Overall we are satisfied with the HMS and look forward to a long innings with Insta Health Solutions Ltd.
Vorteile
User friendly, easy to use, reports are fantastic.
Nachteile
Some basic loopholes are there which need to be addressed.
Branche: Gesundheit, Wellness & Fitness
Unternehmensgröße: 201-500 Mitarbeiter

Täglich

für

Mehr als 2 Jahre

genutzt
Quelle der Bewertung
Preis-Leistungs-Verhältnis
4
---
System Analyst
This is refer to the current HMS Ver. 11.0.4 of BHR. I believe user friendliness should be improved to some extent. Even though vast aria cover by Insta HMS, still required to improve some modules like Dietary(Very basic), Procurement(No purchase requisition, PO amend & re-approve, etc.), Laboratory(Only one Test Template available and difficulty on print paper size configure of worksheets), Stores Functionalities(There is no Stock Items reject process after transfer through a Indent or direct transfer, also better to have a stock uploading facility after a stock take).
Needed to have alert and acknowledgement features. It's better if the HMS allows to access for all Views (Data tables) for HMS Administrators only for viewing purpose as it solve many issues related to report requirements.
In Doctor Payment module issues (Unable to assign 1 doctor for multiple department, Not separating doctor Fees in packages), Major issue when it comes to implement new Taxes like VAT. I suggest to implement TAX module where Customer can implement his own taxes according to the requirement. Developed Channeling module (Consultant bookings, payments, visits and further process) for us not according to our requirement so that we had to go for a local channeling product.
Attending to a new job is in very good status but solution won't match to SLA or to provide a workaround takes long time or no solution at all.
Anyway some modules, features like ICD cording, Inpatient and available report builders are really good. Also can be satisfied with speed of the system.
Vorteile
ICD Cording Module, Inpatient Module and Report Builders
Nachteile
Managing Taxes, Doctor Payment Module, Channeling Module
Branche: Krankenhausversorgung & Gesundheitswesen
Unternehmensgröße: 201-500 Mitarbeiter

Täglich

für

Mehr als 1 Jahr

genutzt
Quelle der Bewertung
Preis-Leistungs-Verhältnis
4
---
user friendly software
This is easy to use for the semi skilled staff and the report builder is also very useful spec.
I am happy using this software as a little training is enough for the new joinees to understand the software process. This is more flexible to add new field to the modules. Some modules are unique in this. I definitely reffer this software for any new requirement.
Vorteile
The report builder and the updations they do regularly to improve the performance
Nachteile
integrations are a little problem
Branche: Computer-Software
Unternehmensgröße: 2-10 Mitarbeiter

Täglich

für

Kostenlose Testversion

genutzt
Quelle der Bewertung
Preis-Leistungs-Verhältnis
5
---
Best Product
Tremendous product till now, no doubt go with this Insta hms product, it is cloud based, your data will be in secure, we are satisfied with the product
Vorteile
insta practo hospital management software does all the requirements for health care industry, its user friendly and mobile app all the modules present in it are awesome, it provides everything under one platform, doctor visits, appointments everything is managed periodically, it is the best software compare to other softwares in market
Nachteile
no issues with this product till now, there may be many software provides in the market but no one can beat insta practo
Antwort von

Insta Health Solutions

Thank you Mr. Raghu Yadav for your feedback!

Beantwortet am 9.7.2019