Über HoneyBook
HoneyBook ist eine cloudbasierte CRM-Lösung für kleine und mittlere Unternehmen. Die Lösung hilft Nutzern, Geschäftsprozesse von der Anfrage bis zur Rechnungsstellung zu verwalten. Mit HoneyBook können Nutzer Projekte verwalten, Kunden buchen, Verträge online unterzeichnen, Rechnungen senden und Zahlungen abwickeln. HoneyBook bietet ein Aufgabenmanagement, mit dem Nutzer verschiedene Phasen eines Projekts anzeigen und verfolgen können. Nutzer können ihre Rechnungen, Verträge und andere Dokumente an einem Ort aufbewahren. Nutzer können mit automatisierten Terminanforderungen und Follow-ups über personalisierte Vorlagen und Benachrichtigungen auf Kunden reagieren. Darüber hinaus können automatisierte Zahlungserinnerungen gesendet und projektbasierte Aufgabenerinnerungen erstellt werden. HoneyBook lässt sich in Tools wie QuickBooks, Calendly, Zapier, Gmail und Google Kalender integrieren. HoneyBook bietet seine Dienste im Rahmen eines monatlichen Abonnements an. Die Lösung bietet eine mobile Anwendung für Android- und iOS-Nutzer. Der Support erfolgt über E-Mail, ein Online-Helpcenter, ein Community-Forum und das Telefon.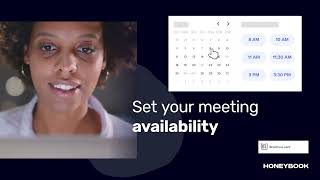 HoneyBook bietet keine Gratisversion, aber eine kostenlose Testversion. Die kostenpflichtige Version von HoneyBook ist ab 19,00 $/Monat verfügbar.
Startpreis:
19,00 $/Monat
Kostenlose Testversion:
Ja
Alternativen für HoneyBook
Branche: Kosmetik
Unternehmensgröße: Selbstständig

Täglich

für

Mehr als 2 Jahre

genutzt
Quelle der Bewertung
Preis-Leistungs-Verhältnis
5
---
How to keep organized while running a business
From the time my prospective clients contact me, throughout the booking process, automatic reminders of upcoming payments, clients being able to pay through honeybook, and even following up after my scheduled time with clients, Honeybook is my biggest tool.
Vorteile
Honeybook is essential to running my business and now that I've been a user for more than 2 years, I can't imagine not using it. As a photographer, it is important for me to keep all of my scheduling, contracting, payments, and details as organized as possible so that I don't miss a meeting, or special detail for a wedding or photo session. Every part of my business is streamlined now that I use Honeybook. Reporting on Honeybook is made very easy from being able to see what % I've booked based on the number of signed contracts, where most of my clients find me, and how much money in taxes I need to pay for the quarter. Additionally, Honeybook has an opportunity board where creatives can post about need for associates, styled photo sessions. Finally, if you refer 2 people per year to Honeybook, your cost for the entire year is covered.. can't beat that!
Nachteile
There are times when I donate photo sessions to non-profits and want to be able to send an invoice showing how much the session would have cost, then adding a discount to show a $0 invoice but there is not a way to send that without charging the invoice and refunding. I wish that I could do more on the mobile app, but new features are being added frequently.
Branche: Kunst & Handwerk
Unternehmensgröße: Selbstständig

Täglich

für

Mehr als 2 Jahre

genutzt
Quelle der Bewertung
Preis-Leistungs-Verhältnis
4
---
Best choice I made for my business yet
Payment processing was always a challenge until I found Honeybook. I love that the automated convenience of honey book. I set my templates, it does the rest. I send an invoice, it bills, reminds and keeps everything squared away. Not to mention it auto-deposits funds into my account. IT keeps me in business!
Vorteile
Running my own business where clients contract via email and forms through my website can get overwhelming when trying to keep track of small but important details. Invoicing, payment processing, contracts, client communication, client surveys and now they have a feature where you can connect with other local professionals on projects. Very useful.
Nachteile
I wish it was a little more upscale looking on fonts, colors and the user experience. My brand is more of a luxury brand so I want customers to feel like when they're being transferred to the contract or payment portion of our interactions that they're still receiving a luxury experience.
In Betracht gezogene Alternativen
17hats
Gründe für den Wechsel zu HoneyBook
The pricing at the time was really affordable to get into. I did the one time purchase instead of a monthly fee. They were super helpful and explained they would put all my company details in for me as well as add my email templates and my collection pricing for invoicing. They did this and it was a breeze to answer right into. Also, they have their mobile app so I can reply, invoice and book clients on the go from the convenience of my phone.
Branche: Krankenhausversorgung & Gesundheitswesen
Unternehmensgröße: 2–10 Mitarbeiter

Täglich

für

Mehr als 2 Jahre

genutzt
Quelle der Bewertung
Preis-Leistungs-Verhältnis
2
---
Traumatized: 2 Years of Headaches then back Square 1
Traumatizing. They've got the right idea but not a single clue about operating a business. In the end, the lesson learned in my own business is to stop paying for headaches sooner rather than later.
Vorteile
Customizing the aesthetics of Client facing files was the reason we used it and the time invested in getting those things created, was why we stuck with it far longer than we should have. Regret every penny and every hour spent on this software, ultimately they "updated" their format (again) and we had to start all over - at our expense and time investment. They lost every payment dispute, dispute our never having lost one when we could handle them: our contracts are iron clad. You're not given the choice to handle dispute: they must do it - they charge you for it too!
Nachteile
Customer service is pass-the-buck and no phone number and call backs hours to days later…don't bother calling on a Friday afternoon, and if u do biz on weekends - too bad for you. Extremely slow to create something, it freezes, slow to upload assets, not intuitive to use whatsoever, help docs are vague. I once begged them to add non-gmail email and they told me their software was "not sophisticated" enough for me.
Gründe für den Wechsel zu HoneyBook
Already using Notion for biz operations, added the functionality of Honeybook to Notion myself using Typeform integrations. I wouldn't have had the knowledge to do this 3 yrs ago when I started w Honeybook, learning Notion has been a fantastic investment of time and very inexpensive.
Branche: Fotografie
Unternehmensgröße: Selbstständig

Täglich

für

1-5 Monate

genutzt
Quelle der Bewertung
Preis-Leistungs-Verhältnis
5
---
Best I've Used So Far
Overall it has been a Godsend. I am feeling much better about how I manage my business with Honeybook.
Vorteile
I love using Honeybook! I've tried a couple other CRM softwares, and this one is by far the easiest to deploy and keep me on track. It is logical and feels easy to use, which has kept me using it rather than reverting to inefficient paper tracking. The customer service has been great: always quick and friendly to answer questions and help me through something I didn't understand. I would highly recommend Honeybook to anyone.
Nachteile
The calendar sync is sometimes glitchy, but that could also be user error. One thing that would make it better would be an easy way to override when I am considered "busy" on my Google Calendar that syncs in. I'd also love to have SMS communication with my clients, but rumor has it they are working on this.
In Betracht gezogene Alternativen
17hats
Warum HoneyBook gewählt wurde
Zoho was just too confusing - I love that it's one big suite to manage Social, and Website, and Accounting, and CRM, and washes my windows...but it was overwhelming, and to have someone help me set it up would require an additional subscription. Studio Cloud was just clunky. I may not have given it enough effort, but it just wasn't quite there for me.
Branche: Fotografie
Unternehmensgröße: Selbstständig

Täglich

für

Mehr als 2 Jahre

genutzt
Quelle der Bewertung
Preis-Leistungs-Verhältnis
5
---
The BEST investment for my business
Love love LOVE HoneyBook! I've been using it for several years now, and can't imagine using anything else instead. And their customer service is QUICK and helpful for the few times I haven't been able to figure out how to do something.
Vorteile
It keeps my business organized and on track! From digital contracts and invoicing, custom brochures and questionnaires, to email tracking and a simple way to see what step I'm at with each project, HoneyBook keeps me on track.
Nachteile
The worst part about it is getting started, but even THAT is pretty simple with their "concierge service" where you can send them your current forms and they'll digitize them for you!