Über Nimble
Nimble offers browser widget and mobile-based sales force automation and social CRM solution for small and midsize businesses. The solution automatically populates customer profiles and interaction histories from contact lists, email conversations and social media activity across a range of popular platforms including LinkedIn. In addition to contact and pipeline management features such as deal tracking, task management, and alerts, Nimble also includes integrated social listening to keep customer profiles updated. This allows businesses to track which contacts are mentioning, following or engaging with them, or who are celebrating milestones such as birthdays—which in turn creates valuable opportunities for informed outreach and follow-ups. Nimble's "Today Page" offers one comprehensive view of to-dos, key deals and engagement opportunities. These are generated by Nimble's "Rules Engine," which learns from user behavior to prioritize social signals and predict which contacts and opportunities are most relevant. Nimble also offers a range of email widgets, allowing users to view rich, contextual detail from their contacts' Nimble profiles even from outside the system.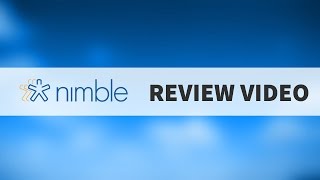 Nimble bietet keine Gratisversion, aber eine kostenlose Testversion. Die kostenpflichtige Version von Nimble ist ab 25,00 $/Monat verfügbar.
Startpreis:
25,00 $/Monat
Kostenlose Testversion:
Ja
Branche: Landwirtschaft
Unternehmensgröße: 2-10 Mitarbeiter

Täglich

für

Mehr als 2 Jahre

genutzt
Quelle der Bewertung
Preis-Leistungs-Verhältnis
0
---
Simple & Effecient
Overall I have been happy with this product. It keeps evolving and keeps getting, generally better. The customer service is over the top. Quick response, always there if we have a questions. I like that!
Vorteile
Easy to assign tags and group the ones you want to use to target specific groups for marketing purposes.
Nachteile
New UI for data entry is not as efficient as it used to be. Still simple but simple data priorities such as which phone number is primary is no longer available. You actually need to open the whole contact window to see all the data while before the summary gave the most important info.
Warum Nimble gewählt wurde
Outlook is not designed to handle thousands of contacts and you need too many plug in to make the thing work like a CRM. It's not made for that.
Gründe für den Wechsel zu Nimble
Simpler to use and Insightly did not have a tagging system nor a proper email system incorporated in the software.
Branche: Computer-Software
Unternehmensgröße: 501-1.000 Mitarbeiter

Täglich

für

6-12 Monate

genutzt
Quelle der Bewertung
Preis-Leistungs-Verhältnis
5
---
Review of Nimble
Overall, Nimble is great app as it includes multiple useful functionality such as email marketing and ad management, contact management and many more at a single place.
Vorteile
Firstly, it is easier to integrate. Contact management is quite good as contacts are imported into the CRM.Finally, it is helpful to keep track of each customer and their needs in continuous time.
Nachteile
Personally, I didn't find any issue using it.
Branche: Immobilien
Unternehmensgröße: 2-10 Mitarbeiter
Quelle der Bewertung
Preis-Leistungs-Verhältnis
4
---
Private Commercial Real Estate Debt Company Reviews Nimble
We spent a good amount of time investigating our options and so with whatever drawbacks, we are still happy with our investment in nimble. Whatever its shortcomings, its much easier to use than our old system which was designed by a company called blue robin.
Vorteile
We like the simplicity, browser plug in is really interesting. its engaging but we don't use a lot of the features.
Nachteile
1) Like I said we do appreciate the simplicity but the biggest disappointment / the thing that would make the system a slam dunk for us if improved is simply the dropdown customization for contact categorizations. We have no use for "Hot Lead" we're not sales people, we're a capital source for the real estate world. We changed those to be subcategories of the lead type which we also customized. The disappointment is in that the system doesn't appreciate that more often than not, a Broker is often also a Buyer, an Attorney often dabbles as a Developer. It would be an easy thing for them to be both. For now we rely on tags although its prone to human error and I don't feel comfortable making mail lists off of them. In summary, our perfect system would allow for broad macro categories that we could customize and subcategories. As well as the ability to check multiple boxes 2) A couple of smaller things, When we connected our twitter account in uploaded all of the companies as people which was a disaster. There was no way to just flip them into companies. We had to delete them and remake them.
3) No customer service. It was a nightmare when we couldn't get an excel of contacts to upload properly, I think my associate had to tweet at Nimble to get any response. Eventually it was resolved. 4) For some reason we thought that connecting people's linkedin would tell us if they changed their job but so far it hasn't.
Antwort von

Nimble

Thank you for taking the time to review Nimble.

I want to address a few of the concerns you brought up in the Cons to help out.

For 1. We recommend using the Custom Data fields feature in Nimble to create uniform data instead of Tags because they can definitely get messy.

For 2. Twitter doesn't differentiate between people or company accounts over their API, therefore, we can only import all contacts as a person or a company. We chose to go with "person" by default because this is more often the case than not. We're planning to add the option to convert a contact record from a person to a company in the future to help with this pain from Twitter.

For 3. We offer customer support via email M-F from 9-5 PM Pacific and you will always hear back from us if you write to [email protected] We are also addressing CSV upload issues this summer to make it easier to bring your data into Nimble.

For 4. LinkedIn has limited their API from allowing CRM systems to sync job changes, therefore, you may update contacts with the Nimble Smart Contacts App while on LinkedIn if a contact changes their job. It's a different workflow, but it achieves the same result.

All in all, I really appreciate your feedback for Nimble. This is the kind of feedback we want so we can continue to stay at the top.

Best,

Joseph

Beantwortet am 23.6.2015
Branche: Internet
Unternehmensgröße: 51-200 Mitarbeiter

Täglich

für

6-12 Monate

genutzt
Quelle der Bewertung
Preis-Leistungs-Verhältnis
3
---
Making It Easier On Us All | Nimble Product Review
All in all, though, I think Nimble is definitely worth checking out if you're looking for something that will make your life easier when it comes to marketing automation!
Vorteile
I've been using Nimble for a few months now, and I have to say, it's pretty great. It does everything that it says on the tin and then some.Here are some of the pros:1) It's easy to use. You can be up and running in no time at all.2) The support team is great—they reply quickly and are very helpful when answering questions or dealing issues you might have had while using the product.3) It integrates seamlessly with other popular services like Mailchimp or Google Analytics so that you don't have to worry about connecting multiple platforms yourself!
Nachteile
Now for some cons:1) The pricing structure can be a bit confusing if you're new to this type of software; there are different plans depending on how many people will be using it within your organization (i.e., 5-person plan vs. 50-person plan). Make sure to ask your sales representative which one would be best suited for your business!
Branche: Metallabbau
Unternehmensgröße: 51-200 Mitarbeiter

Täglich

für

1-5 Monate

genutzt
Quelle der Bewertung
Preis-Leistungs-Verhältnis
5
---
easy contact management tool
I use the tool for contact management and email marketing
Vorteile
Nimble is easy to use in contact management and social media management, user interface is so easy and simple to integrate with social media platforms
Nachteile
It is expensive and does not load data quickly, besides that, it is so good and worthy to use, i recommend it