Über QuickBooks Desktop Enterprise
QuickBooks Enterprise ist eine Buchhaltungslösung für KMU in verschiedenen Branchen wie Bauwesen, gemeinnütziger Vertrieb, Fertigung und Einzelhandel. Mit der QB-Enterprise-Lösung können alle Geschäftsinhabende ihren Geschäftsbetrieb durch fortschrittliche Inventar-, Berichterstattungs- und Rechnungstools erweitern sowie Premium-Support von den Kundenbetreuungs- und Gehaltsabrechnungsteams von Enterprise erhalten. QuickBooks umfasst Multi-User-, Gehaltsabrechnungs- und Inventarmanagement, Inventar- und Ausgabenverfolgung, Rechnungsstellung, erweiterte Berichterstattungstools und mehr. QuickBooks Enterprise bietet anpassbare Berichterstattungstools, mit denen Nutzer Daten analysieren und fundierte Geschäftsentscheidungen treffen können. Mit über 200 automatisch ausgefüllten Vorlagen und 70 branchenspezifischen Berichten hilft diese Buchhaltungssoftware von QuickBooks Unternehmen, QuickBooks-Daten zu finden, um jedes Geschäftsproblem zu lösen. Mit den fortschrittlichen Inventartools von QuickBooks können Unternehmen den Inventarmanagementprozess einsehen und kontrollieren, indem sie Inventarbewegungen verfolgen, Inventarartikel automatisch scannen und aktualisieren, Bestellungen/Verkaufsaufträge von einem Dashboard aus verwalten und vieles mehr. Mit QuickBooks Enterprise können Unternehmen Finanztransaktionen mit Auftragskalkulationstools, Batchfakturierung, Rechnungsverfolgung, Cashflow-Management, Sachanlagen- und Verkaufsverfolgung, Zahlungsabwicklung und anderen Funktionen steuern, anpassen und automatisieren. Unternehmen können auch mehrere Dokumente scannen und anhängen, einschließlich Belegen und Angeboten für mehrere Buchhaltungsaufgaben. Das Tool ermöglicht es Unternehmen, Dokumente in Kategorien einzuteilen und wichtige Buchhaltungsdateien zu verfolgen. Diese Lösung führt auch ein Änderungsprotokoll, um Änderungen in jedem Dokument mit dem richtigen Datum und Zeitstempel aufzuzeichnen. QB bietet auch verschiedene QuickBooks-Software wie QuickBooks Premier und QuickBooks Pro an, die verschiedene Funktionen enthalten.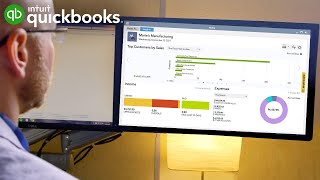 QuickBooks Desktop Enterprise Preis
QuickBooks Desktop Enterprise bietet keine Gratisversion, aber eine kostenlose Testversion.
Startpreis:
Nicht vom Anbieter bereitgestellt
Kostenlose Testversion:
Ja
Alternativen für QuickBooks Desktop Enterprise
QuickBooks Desktop Enterprise Erfahrungen
Branche: Informationstechnologie & -dienste
Unternehmensgröße: Selbstständig

Täglich

für

Mehr als 1 Jahr

genutzt
Quelle der Bewertung
Preis-Leistungs-Verhältnis
4
---
Good for all Business
QuickBooks Desktop Enterprise is my favorite general accounting and financial reporting software, easy to learn, simple and very practical, I recommend it to all small and medium business owners
Vorteile
QuickBooks Desktop Enterprise is one of best softwares accounting and financial report, It offers different accounting methods according to the needs of the company, Excellent integration between the computer program and the mobile application
Nachteile
There are some points that are good to work on further, for example:- Reporting service is not accurate enough- It would be nice to update the dashboard in terms of design
Gründe für den Wechsel zu QuickBooks Desktop Enterprise
Affordable price, easy to use
Branche: Finanzdienstleistungen
Unternehmensgröße: 501-1.000 Mitarbeiter

Täglich

für

Mehr als 2 Jahre

genutzt
Quelle der Bewertung
Preis-Leistungs-Verhältnis
4
---
Complete Accounting Solution
Quickbooks Desktop Enterprise is cloud based software there user can work from anywhere getting real time accounting results. It is suitable for startups and small to medium size enterprises. Quickbooks simplify day to day accounting so a person who does not know more about accounting can use it with little help and get all accounting done including management of payroll, inventory, taxation, and more important financial statements. It enables user to effectively track underlying details and documents by just clicking particularly it empowers user to keep eyes on accruals, account payable, and account payable.
Vorteile
I love Quickbooks due to its simplicity for setup and using, where we get all accounting done. A straight forward way to automate day to day accounting. It generates all reports required by a user from an accounting software even allows customization. It facilitates to maintain multi organizational setups. On single click, it leads to underlying details, source documents, visualizing each entry.
Nachteile
Quickbooks do not restrict to edit, delete, or add an entry into back month therefore it may happen that one gets print out of financial statements for a particular month and then do any editing into previous month's transaction then print out will differ than software, even it does not maintain any log to track changes made by user. It does tax management itself but one cannot fully rely on it, user must monitor tax reports before forwarding. It can be works offline therefore at that scenario one cannot enjoy benefits of cloud-based software, further it supports only Windows operating system.
Branche: Tierarzt
Unternehmensgröße: 11-50 Mitarbeiter

Täglich

für

Mehr als 2 Jahre

genutzt
Quelle der Bewertung
Preis-Leistungs-Verhältnis
5
---
Mount Carmel Animal Hospital
Overall, Quickbooks is an amazing program. As someone who had no training in bookkeeping or business, it was very easy to navigate and utilize fairly quickly. The system is ultimately error proof, which is incredibly reassuring for someone who had no experience when starting out.
Vorteile
Quickbooks is very user friendly and easy to navigate while being incredibly detailed and accurate. Coming from a veterinary background with not training in bookkeeping or accounting, I was able to utilize the software with minimal training. The way the software is designed, it is virtually impossible for errors to go unnoticed. There are multiple checks systems in place to ensure everything is accurate and correctly accounted for.
Nachteile
Having multiple users can become a bit expensive. Remote access is also more difficult, requiring a third party to manage remote access. Quickbooks Online offers easy remote access, however, we found that the desktop version was better suited for our needs overall.
In Betracht gezogene Alternativen
Xero
Gründe für den Wechsel zu QuickBooks Desktop Enterprise
We considered switching when we switched away from a RDP system within our office for better access. We found that despite the lack of easy remote access, QB Desktop was still the best option for us overall.
Branche: E-Learning
Unternehmensgröße: Selbstständig

Täglich

für

Mehr als 2 Jahre

genutzt
Quelle der Bewertung
Preis-Leistungs-Verhältnis
5
---
QuickBooks is Quick and Easy! (I would definitely recommend it!)
This has been a game-changer is organizing my receipts!
Vorteile
I use QuickBooks for my two self-employed businesses and really love it. The first thing that I really like about QuickBooks is that it integrates with other softwares that I use. It is a part of the Intuit suite of softwares including Mint and TurboTax, and it also works with Square. The software has a user-friendly interface. I like that you can upload pictures of your receipts and attach them to each expense. No more worrying about your paper receipts fading or being misplaced. PRICELESS!! They also have a mileage tracker, which is super helpful. Of course, you can run important reports like Profit & Loss and your Balance Sheet. Quickbooks has also gotten into banking, and you can set up an envelope system for your business expenses. They offer several price points that are not that expensive. I would definitely recommend this software.
Nachteile
The hardest part about Quickbooks is just getting into the habit of reconciling your books. I do this myself, but you can hire a book-keeper to do it for you. They have a list of local Quickbook savvy bookkeepers in your area.
Branche: Einzel- & Familiendienstleistungen
Unternehmensgröße: 2-10 Mitarbeiter

Täglich

für

Mehr als 2 Jahre

genutzt
Quelle der Bewertung
Preis-Leistungs-Verhältnis
2
---
Love everything QuickBooks offers
Our experience has always been exceptional with this company. We have never had any issues up until recently with the bank statements not automatically downloading. However, I don't know if that's our bank or the software itself, so I can not hold that against the software. Other than the recent price change, everything about the software has been perfect. We love all the features and everything it does- the reporting, the reminders for when to send payroll and forms / fees to the government, the organization, breakdowns, the ease it gives our accountant, the option to add additional classes if and when you add additional locations etc. All the features are great!
Vorteile
I absolutely love everything Quickbooks has to offer. It is extremely easy to learn and very user friendly. It does everything you need an accounting software to do for your business, and more. We have been using it for almost 12 years now and it has worked perfectly for all of our business needs. It's simple to learn, and has help topics that are easy to follow and figure out when we need assistance.
Nachteile
We have never had any issues with the software itself, but after using it for almost 12 years, they have completely changed their pricing structure this year. Our price is going to more than triple this year for the same services we've always been using. I feel that the price has always been very reasonable, up until this year when they completely restructured it. It is the only reason we are considering looking for a different software. I completely understand the need to increase rates, but to more than triple what we've always paid seems very excessive and is a significant cost for a small business. The least the company could do is offer a discount for its loyal users who have been with them for many years. (We use QuickBooks and the payroll features)