Über inFlow Inventory
Du suchst nach einem Bestands- und Auftragsverwaltungssystem für dein kleines oder mittelständisches Unternehmen? inFlow wird in mehr als 90 Ländern in der Fertigung, dem Großhandel, Vertrieb, E-Commerce und vielem mehr eingesetzt. Dank der cloudbasierten Windows- und webgestützten Anwendungen und der mobilen Apps ist die Lösung außerdem einfach einzurichten. inFlow bietet dir die Tools, die du zur schnellen und genauen Verfolgung von Produkten benötigst. Mit den Bestandsfunktionen kannst du Bestände in Echtzeit empfangen, übertragen oder erfüllen – auch von iPhone- oder Android-Geräten aus. Fertigungs-Add-ons ermöglichen eine schnelle Zusammenstellung und Montage. Die integrierte Barcode-Generierung und der Etikettendruck machen es einfach, Barcodes zum Scannen einzuführen. Anpassbare Zugriffsrechte sorgen dafür, dass Teammitglieder nur auf die Funktionen zugreifen können, die sie nutzen sollten. inFlow hat ferner alles, was du benötigst, um deine Aufträge im Griff zu behalten. E-Commerce-Integrationen zentralisieren den Vertrieb und sorgen so für eine einfachere Nachverfolgung und Berichterstattung. Mit B2B-Portalen kannst du kundenspezifische Preise und Kataloge an bestimmte Kunden senden. Nachbestellpunkte helfen deinen Teams, Bestellungen aufzugeben, bevor der Lagerbestand aufgebraucht ist. Chat-, E-Mail- und Rückruf-Support sind in jedem Abonnement enthalten.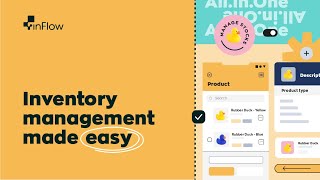 inFlow Inventory bietet eine Gratisversion und eine kostenlose Testversion. Die kostenpflichtige Version von inFlow Inventory ist ab 89,00 $/Monat verfügbar.
Alternativen für inFlow Inventory
inFlow Inventory Erfahrungen
Branche: Geschäftsbedarf & -einrichtung
Unternehmensgröße: 2–10 Mitarbeiter

Täglich

für

Mehr als 2 Jahre

genutzt
Quelle der Bewertung
Preis-Leistungs-Verhältnis
5
---
Does what we need it to..
Vorteile
We switched from the desktop version of inflow.
We use MacOS/IOS as a company and were growing concerned that we would have to switch platforms completely to allow our team "cloud" access to our inventory and invoicing.
The new interface makes the transition very simply and gives us the full functionality we need on our operating systems.
Nachteile
We would like to see the continued development of the web app
Branche: Krankenhausversorgung & Gesundheitswesen
Unternehmensgröße: 51–200 Mitarbeiter

Täglich

für

6-12 Monate

genutzt
Quelle der Bewertung
Preis-Leistungs-Verhältnis
4
---
the one that does it all
Now that we have it working and implemented, it is so much more fun to work with. there is an overview for al you can think of...... all reports you want, but also clear and up to date data
Vorteile
The programm covers almost everything in 1 program.
from buying, receiving, selling through the web-site build in or external, to delivering and invoicing.
There are a lot of other programs, but only a few with all these functionalyties in 1 programm
Nachteile
in the beginning we had problems, by picking the goods they forgot to also ship the goods.... in my inventory reports the goods only left after i shipped the orders.
I would love it if there would be a link in the programm to a tutorial page.... if you have questions or doubts...that you can look it up easely.
I think there are to low limits on orders per month and users...the programm will be expensive for us! ( we are not selling, the orders are to deliver what the doctors are in need of..... so no revenue will come out)
Preis-Leistungs-Verhältnis
0
---
Very intuitive, and such an easy entry into the world of bar-coding.
I went to the internet with a need, and that was to get our small business bar-coded, since the old words-only tags were taking so long to process at the point of sale, ie. hand written receipts and all, causing lineups that were too long at times and likely costing us business. I found your book offer "Bar-code Your Business" and ordered a copy. It was well written, very concise, and of course, led me to purchase Inflow.
What I REALLY like about Inflow is how intuitive it is. I didn't need to take a course to figure it out, as it feels very Windows-like. I purchased a no-name bar code gun online, devised a model code scheme for our products, and was up and running in no time. Thanks.
On the "not so shiny" comments side, I can't say I liked the upgrade from v2 to v3. The original v2 did everything I needed, and required less explanation to my helpers as to it's function. Suddenly with v3, we now had to hit Save, Fulfill and Mark Paid, all of which ended up with me having to fix this by cheating the date on my computer and closing orders after the fact, when the helpers didn't do it the first time. I was also broadsided one day when on the job, Inflow v3 just froze up on me and I didn't know what to do, exactly when I needed it the most. Well, it turns out that I had to be connected to the internet to use it, obviously so Inflow could monitor licensing/usage status. This was not good, although your customer service was quick to help me with this. If you could find another way to police the licensing, that would be nice. And finally, the one thing that drives me nuts (did again yesterday) is the fact that if I fill in the "customer name" field AFTER having filled in the sales order details, any discounts applied off original price get erased. This has on a number of occasions caused me to inadvertently overcharge customers, and is extremely embarrassing when it's they who notice it first and think I'm trying to "pull a fast one" on them. PLEASE fix this! (although I'm outside of my customer support time window, you can spare others the same issue).
Once again, I must compliment your customer service (hen it still applied to me) for their very prompt responses to any query I ever had.
Peter
Branche: Computer- & Netzwerksicherheit
Unternehmensgröße: 11–50 Mitarbeiter

Täglich

für

6-12 Monate

genutzt
Quelle der Bewertung
Preis-Leistungs-Verhältnis
4
---
Fully adaptable, simple Inventory Management System
Vorteile
Able to use to suit the amount of information you want to work with. Functioned with bare minimum to allow bare bones set up which can then be added to as you decide to improve with more functions as yoou have time to do.
Nachteile
Would be good to have a holding goods in location where items automatically store and then have process for putting items into their location.Label integration other than dymo.
Antwort von

Archon Systems

Hi Dan, thanks for taking the time to share your detailed feedback!

I've logged your note about a holding location.

And I'm also pleased to share that we now support more thermal printers (we've tested brother, DYMO, and Zebra so far) and we've built a full-fledged label designer into the inFlow web app.

The easiest way to find it is to go to a product, select Print Labels, and then select the Label Designer.

Cheers!
- Thomas

Beantwortet am 4.1.2023
Branche: Versorgungsunternehmen
Unternehmensgröße: 11–50 Mitarbeiter

Täglich

für

Mehr als 2 Jahre

genutzt
Quelle der Bewertung
Preis-Leistungs-Verhältnis
5
---
Great Product for the Investment
Using InFlow, we have integrated work orders, inventory, and purchasing into one "place". Great options for reporting and usage. Overall, a simple, easy-to-use inventory management program, should satisfy most small business needs.
Vorteile
The ease of use and customer service make this product what it is. This software literally does everything we need.
Nachteile
I really have no "Cons". Maybe a little more user-defined templates, but I have made it work just fine for our use.