Über LiveAgent
LiveAgent ist eine Online-Live-Chat-Plattform für E-Commerce-Unternehmen auf kleiner und mittlerer Ebene. Die Plattform bietet eine Live-Chat-Anwendung, Ticketverwaltung, Online-Self-Service-Portale sowie Änderungs- und Lizenzverwaltung, alles entweder als In-Suite- oder eigenständige Anwendung.
LiveAgent bietet eine Auswahl an breiteren Anwendungen für das CRM, wie z. B. Marketing- und Sales-Force-Automation in Kooperation mit einer Vielzahl von Drittanbieter-Softwareunternehmen. Die Lösung ist anpassbar und kann skaliert werden, wenn kleine Unternehmen ihre Kundenbasis und Online-Dienstleistungen ausbauen. Die Software bietet ein Ticket-Verwaltungssystem, bei dem das Ticket den kompletten Datenstrom der Chat-Nachrichten, E-Mails, Telefonanrufe oder Nachrichten aus anderen Kommunikationskanälen zwischen Kunden und Support-Mitarbeitenden des Unternehmens enthält.
LiveAgent wird sowohl als webbasierte (Cloud-)Software als auch als On-Premise-Installation angeboten. Der Preis für die Cloud-Option wird auf einer Pay-per-User-Basis berechnet basierend auf der Anzahl der Agenten, und die On-Premise-Optionen ist ein Vorab-Preismodell und richtet sich nach der Anzahl der Agenten.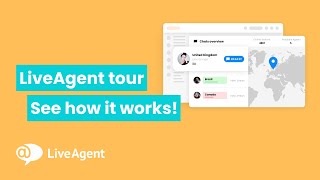 LiveAgent bietet eine Gratisversion und eine kostenlose Testversion. Die kostenpflichtige Version von LiveAgent ist ab 13,00 €/Monat verfügbar.
Preisinformationen:
14-tägige Probephase, Keine Kreditkarte erforderlich Kostenlos: €0/Agent/Monat Ticket: €13/Agent/Monat Ticket + Chat: €25/Agent/Monat All-inclusive: €33/Agent/Monat
Preisoptionen anzeigen
Alternativen für LiveAgent
Branche: Informationstechnologie & -dienste
Unternehmensgröße: 2-10 Mitarbeiter

Täglich

für

Mehr als 2 Jahre

genutzt
Quelle der Bewertung
Preis-Leistungs-Verhältnis
5
---
Huge platform with many possibilties.
I have been using LiveAgent for a couple years and find it an excellent choice, you will be able to easily keep tabs on clients. If you work with a team it brings many gamification badges and all kinds of professional ticket routing features. It also includes many reporting features which are important to keep tabs on how your team and clients are working. LiveAgent also includes many automation possibilities through both no-code SaaS such as Zapier and their own API/Webhooks and Rules automations.
Vorteile
I mostly use LiveAgent to keep email tickets for my support contracts. However I can see the huge potential it brings as a full-fledged, omni-channel helpdesk platform. LiveAgent will let you pick and choose which features you use. For example, you can use their live-chat widgets, or you can connect a voice ip line to take calls. It can even handle contact forms. In any case, client information will be readily available for a better support experience.
Nachteile
As functional as the web platform is, they are a bit stagnant on modern working life. For example, logging into two browsers will close the session on one side, and their mobile App on iOS doesn't send notifications if you are AFK on your computer. The app is not very friendly. Knowledge base pricing seems a bit high for what I believe is a very simple feature.
Antwort von

QualityUnit

Hi Alfredo :) thanks a lot for your kind and honest feedback! We are thrilled to have you with us. We want to be the best on the market and our team is taking notes of any suggestions for improvement via chats on our website or via email at [email protected]

Beantwortet am 21.4.2021
Branche: Freizeit, Reisen & Tourismus
Unternehmensgröße: 11-50 Mitarbeiter

Täglich

für

6-12 Monate

genutzt
Quelle der Bewertung
Preis-Leistungs-Verhältnis
5
---
B2B portfolio management
I thought it was going to be a more difficult change or that the system was not going to adapt to our business due to its low cost. Pleasantly I can say that the experience has been very good: the whole organization has quickly acquired it and helps us to work more orderly and with the peace of mind that information is not lost among so many communication channels, since LiveAgent centralizes almost all of them.
Vorteile
What I like most about LiveAgent is that we didn't lose the personalization that our business requires, on the contrary, we managed to improve it by being more agile with response times by removing the dependence on responses and email forwarding with many people in CC to handle a single sale.
All the actors in the sales process can participate simultaneously if necessary, centralizing and keeping the information available to everyone.
The tagging system of the tickets is very useful when prioritizing, the departments and the assignment allow to order and define who is responsible at each stage.
We can set up our own ticket and contact fields, so we can manage the software as we need to.
Finally, the biggest beneficiary is our client, who receives a better service.
Nachteile
I would like to be able to mention an agent who receives a notification about any comment on the ticket. Anyway, the system has a chat or an internal call that can be made about the tickets and they help a lot when it comes to teamwork.
Antwort von

QualityUnit

Thank you so much for your kind and complex feedback, Federico! I am thrilled to hear that LiveAgent plays a role in the improvement of a way that your business handles customer support! Our software is making sure that no ticket will be missed or skipped and it also allows all the agents to see who is working on which ticket so that agents can easily avoid double-work! We also wanted to make sure that LiveAgent will be affordable for any business regardless of its size! :) Just know that you can always reach us 24/7 via chat on our website! :)

Beantwortet am 1.4.2020
Svetoslava K.
Svetoslava K.
Branche: Konsumgüter
Unternehmensgröße: 11-50 Mitarbeiter

Täglich

für

Mehr als 1 Jahr

genutzt
Quelle der Bewertung
Preis-Leistungs-Verhältnis
5
---
Great communication tool for Customer Service departments
Once when we started using Liveagent we made a big step for our company as finding the right product took us really long time and analyzing each tool whether it suits us or not.
Vorteile
LiveAgent provides a clear insight into our daily communication with our clients. Our team manages hundreds of emails and calls in a day. We checked couple of other Alternatives and LiveAgent has everything we needed in 1 tool and the price was really good too.
Nachteile
There is no option for Customers to place reviews after email tickets. There is a third part provider but it is expensive.
In Betracht gezogene Alternativen
Zendesk
Warum LiveAgent gewählt wurde
Their prices are very expensive and the UX was harder to use compared to LiveAgent.
Gründe für den Wechsel zu LiveAgent
Better service, all in one product and much cheaper compared to others.
Antwort von

QualityUnit

Hello Svetoslava, many thanks for your kind and honest feedback. We are excited to see that you are happy with our customer support as it is one of the things that we care about the most. As to receiving feedback from your customers, feel free to check this article with possible solutions -> https://support.liveagent.com/528966-Agent-ranking. If you have any questions, do not hesitate to contact us via chat on our website or via email at [email protected]
- LiveAgent team

Beantwortet am 30.11.2021
Branche: Marketing & Werbung
Unternehmensgröße: 11-50 Mitarbeiter

Täglich

für

Mehr als 2 Jahre

genutzt
Quelle der Bewertung
Preis-Leistungs-Verhältnis
3
---
Mediocre lifecycle management
It has been from more to less. In the last 3 years has barely evolved (if not regressed), not being anymore a market leader. If I still haven't changed is due to all integration I have already done with the app.
Vorteile
It's a really useful omnichannel tool, which requires mid-size effort to configure and obtain an inmediate profit.
Nachteile
Development and support are on their own. They add/ change / delete functionalities without further notice. It's quite frustrating when a given morning your agents tell you that something you have been using for years is not working and when you reach support team responds saying that this feature never existed, as you are idiots.
This issue could be easily solved if product team would submit a regular/weekly email with the content of the product roadmap, so teams can addapt in advance their operation to deleted/changed/added functionalities.
Gründe für den Wechsel zu LiveAgent
price affordable and worthy features
Antwort von

QualityUnit

Hello Alberto, thank you very much for your honest review. We are happy to see that you find LiveAgent a useful omnichannel tool but at the same time, we are also very sad to hear about your negative experience.
We are gathering the suggestions and features requested from our customers plus we have some internal initiatives to keep the growth of our solution. Recently we have been slowed down by a code refactoring that cannot be seen by users as an immediate improvement, but it's very important in a long term.
All the changes can be found here in our changelog -> https://dev.ladesk.com/ and also in our blog post here -> https://www.liveagent.com/blog/news/ which is highlighting the most significant changes. Anyways, I will pass your feedback about the potential improvement of sharing the details about upcoming changes to our manager. I am again very sorry if there has been any change that caused you any inconvenience.

Beantwortet am 30.11.2021
Christoph S.
Christoph S.
Branche: Logistik & Lieferkette
Unternehmensgröße: 501-1.000 Mitarbeiter

Täglich

für

1-5 Monate

genutzt
Quelle der Bewertung
Preis-Leistungs-Verhältnis
4
---
Positive Feedback
The Live Agent works very well for our company. Regarding this tool we receive now more specific tickets what increase the time for solving a ticket and makes the work for administrators a lot easier.
Also we use the reporting tool what helps a lot to get an overview about all cases and solved problems.
Vorteile
- fast support help
- many possibilities to design a template for more usefull tickets
- nice overview because of the reporting tools
Nachteile
I could not write any negatives since now
Warum LiveAgent gewählt wurde
The Redmine was not supporting O365 and wasnt easy to use
Gründe für den Wechsel zu LiveAgent
Teams is to complicated to implement
Antwort von

QualityUnit

Hello Christoph. Thank you for your kind feedback! We are happy to see that LiveAgent works well for your company :)
- LiveAgent Team

Beantwortet am 3.9.2021