Über Hubstaff
Egal, ob Unternehmen ein neues Team gründen oder nach einer besseren Möglichkeit suchen, Mitarbeitende zu verwalten, Hubstaff hat alles, um Teams sicher zu führen. Mit der innovativen und robusten Lösung für die Zeiterfassung und Aufgabenmanagement können Unternehmen die Zeit ihres Teams mit detaillierten Arbeitszeittabellen, GPS-Tracking und Projektmanagement mithilfe des Aufgaben-Moduls verfolgen.
Da die Mitarbeitenden ihre Arbeitszeit mit den einfachen Desktop-, Web-, iOS- und Android-Anwendungen erfassen, können Unternehmen ihre Aktivitäten mit Zeiterfassung, optionalen Screenshots und App-Tracking, Maus- und Tastaturnutzung und sogar die Arbeitszeit vor Ort mit Geofences überwachen.
Hubstaff ermöglicht es der Teamleitung, detaillierte Berichte anzuzeigen, Kundenrechnungen zu versenden und sogar Mitarbeitende direkt basierend auf ihrer Arbeitszeit und anpassbaren Vergütungssätzen zu bezahlen.
Mit über 30 Anwendungsintegrationen wie Basecamp, Trello, Asana, GitHub und PayPal fügt sich Hubstaff bei zahlreichen Unternehmen nahtlos ein, sodass Nutzer ohne Beeinträchtigung ihres Tagesgeschäfts arbeiten können.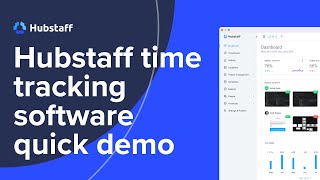 Hubstaff bietet eine Gratisversion und eine kostenlose Testversion. Die kostenpflichtige Version von Hubstaff ist ab 7,00 $/Monat verfügbar.
Alternativen für Hubstaff
Branche: Onlinemedien
Unternehmensgröße: 11-50 Mitarbeiter

Täglich

für

Mehr als 2 Jahre

genutzt
Quelle der Bewertung
Preis-Leistungs-Verhältnis
5
---
The best Employee Monitoring Software in Market for Remote Employees
It was a great experience, the software is scalable and affordable. It only adds cost upon usage which is critical.
Vorteile
As a company with lots of employees working remotely for us, we need strong software to monitor employees' performance and act according to the efficiency analysis. Its best feature is idle time management which helps you know if some employee is sitting idle.
Nachteile
Customer support is delayed a bit. We sometimes faced problems with Windows computers, this is somewhere Hubstaff needs to work it more user-friendly for Windows.
Branche: Versorgungsunternehmen
Unternehmensgröße: 11-50 Mitarbeiter

Täglich

für

1-5 Monate

genutzt
Quelle der Bewertung
Preis-Leistungs-Verhältnis
5
---
Amazing product and even more amazing support team
Vorteile
It was a perfect fit for us as we have teams in 3 different locations (all remote) and their tools give us an eagle eye view of everything that is going on.
I used to use a competitor of theirs a few years ago and when I tried out Hubstaff, noticed they are leaps and bounds above them.
Service second to none. Chat 24-7-365, respond in under a minute and 9/10 resolve your issues on the spot.
Nachteile
Seriously cant think of a flaw at this juncture
Antwort von

Hubstaff

Hello Amir, thank you for taking the time out of your day, in order to leave us this review.

I just wanted to provide a little correction, to make it clear for other customers, our live chat is available 24 hours a day over the weekdays. We provide support over email during the weekends.

Thank you again for taking the time to leave us this review and we hope you will carry on having a productive and enjoyable experience using the platform.

Beantwortet am 6.6.2022
Branche: Finanzdienstleistungen
Unternehmensgröße: 2-10 Mitarbeiter

Täglich

für

Mehr als 2 Jahre

genutzt
Quelle der Bewertung
Preis-Leistungs-Verhältnis
2
---
TIme tracking via Hubstaff
Vorteile
Easy to use. Does not require much from the user, simply enabling it at the start of your shift.
Nachteile
For what we used it for, and being a smaller sized company I dont think we utilized all of the bells and whistles the software offered (end user issue not software related)
Antwort von

Hubstaff

Hello Jaime, thank you for taking the time to submit this review of our product. Indeed, Hubstaff does offer a lot of features, some of which may not be applicable at all for some organisations and it may be initially daunting to go through the learning process and set up the organisation to best suit your needs. In the future, if there are doubts about how to make the most of the platform, you can always reach out to our support team at [email protected] Our support team are experts when it making the most of the platform and our live chat team is available 24 hours a day during the weekdays.

Beantwortet am 30.5.2022
Branche: Design
Unternehmensgröße: 11-50 Mitarbeiter

Täglich

für

Mehr als 2 Jahre

genutzt
Quelle der Bewertung
Preis-Leistungs-Verhältnis
4
---
Using Hubstaff for 5 years more. Seem it has improved!
Really just fine. What more should I look for as a freelancer who just need to track time for a project. Then send a a simple invoice at the end. As far as I'm concerned, I have a good experience with the app. If I have to suggest, maybe as a UX/UI Designer, they can enhance the looks an feel of the software to make it more professional and appealing to users.
Vorteile
Straightforward. Just the thing you need, you'll find it. Pretty much like any other time tracking software - as freelancer it has screen capture, invoicing, offline tracking and all...
Nachteile
It's just straight forward. Maybe they can add quick chat for client. Instead of additional login to browser when you need to quick communicate with your client.
Antwort von

Hubstaff

Hey Roldan, thank you for submitting this review for Hubstaff! We are happy to hear that you are enjoying using Hubstaff for your time tracking needs.

We want to continually improve the platform and our offerings, so we do welcome all feedback onboard. Please feel free to go to https://roadmap.hubstaff.com/ and add any ideas for features to be implemented.

Beantwortet am 29.3.2022
Branche: Immobilien
Unternehmensgröße: 2-10 Mitarbeiter

Täglich

für

Mehr als 1 Jahr

genutzt
Quelle der Bewertung
Preis-Leistungs-Verhältnis
5
---
Great for staff monitoring
Great experience overall
Vorteile
It allows us to easily calculate the hours worked by our remote team whilst ensuring the team are focused and easily shows us how much is owed at the end of the month. Vital tool for outsourcing.
Nachteile
There are a lot of features that we dont use, it would be really useful if it were possible to automatically schedule send us the hours worked by an employee at a time period we are able to define, so that we could easily access this information without having to generate the report. This function exists in part but the ability to set the time period ourselves would be very useful.
Antwort von

Hubstaff

Hey Clive! Thanks so much for this fantastic review! We're so thrilled that you find Hubstaff as a vital tool for outsourcing!

I'm also happy to let you know that you're able to do Scheduled reports so that you don't have to generate them manually. Please go to our support article to learn more about Scheduled reports: https://support.hubstaff.com/scheduled-reports/

If you have further questions, please don't hesitate to drop us a message at [email protected] or hop on chat! We'll be happy to assist you!

Thanks again for this wonderful feedback, Clive! Have a great day!

Beantwortet am 20.5.2022