Über UpKeep
Das CMMS (Computerized Maintenance Management System) von UpKeep ist eine moderne Lösung zur Wartungs- und Anlagenverwaltung für dein Team. Von deinem Desktop über dein Handy bis hin zum Tablet ist UpKeep von überall und zu jeder Zeit leicht zugänglich. Erstelle unterwegs Arbeitsaufträge, lass dich benachrichtigen, wenn Aufgaben aktualisiert werden, und erhalte Warnungen direkt von deiner App aus, wenn Anlagen fallen, sodass dein Unternehmen effizienter läuft als je zuvor. UpKeep bietet Kernwartungsfunktionen wie Anlagen-, Inventar- und Arbeitsauftragsmanagement sowie präventive Wartung zur Erstellung von Serviceplänen. Nutzer können eine Aufgabenübersichtsseite nutzen, die anstehende Arbeiten zusammen mit Fälligkeitsterminen, Anlagen und der Priorität oder die der jeweiligen Aufgabe zugeteilten Arbeitskräfte anzeigt. Beim Hinzufügen neuer Aufgaben können Nutzer Notizen, eine farbcodierte Prioritätsbewertung, Bilder, Anlagen und Nutzer hinzufügen. Mit der mobilen App können Nutzer unter anderem Projekte erstellen, Arbeitsaufträge zuweisen und Anlagen verwalten. UpKeep wurde für kleine bis mittlere Unternehmen in verschiedenen Branchen entwickelt. Das Unternehmen bietet seine Services im Rahmen eines Monatsabonnements an, das Support per Telefon, E-Mail und über eine Online-Wissensdatenbank umfasst.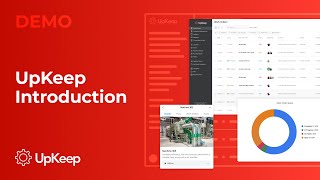 UpKeep bietet eine Gratisversion und eine kostenlose Testversion. Die kostenpflichtige Version von UpKeep ist ab 45,00 $/Monat verfügbar.
Startpreis:
45,00 $/Monat
Kostenlose Testversion:
Ja
Branche: Essen & Trinken
Unternehmensgröße: 201–500 Mitarbeiter

Täglich

für

6-12 Monate

genutzt
Quelle der Bewertung
Preis-Leistungs-Verhältnis
5
---
Upkeep can change your whole maintenance program
It's as good at the information provided, which is made better because once it's in there, its accessible to anyone and over time, can provide information
Vorteile
Information, details, knowing what was done on a machine last time, it means that you don't necessarily have to do the same job twice. If a problem comes back and was misdiagnosed last time you can review what was done and see if you can find where the actual issue is.
Locations, parts, assets, you can put them all into this software and down to the bolt you can provide details on any of them.
Nachteile
The UI needs work, especially when moving parts around or finding assets in a location. Having a naming standard helps a lot. If you know that an item belongs at a specific site, having a clear site name along with what it is makes a difference.
Antwort von

UpKeep Technologies

Hi Paul!

Thank you for taking the time to leave a review and for all of your feedback! We are so happy to hear UpKeep is providing value to you and your team and helping to improve your maintenance program. Your feedback regarding the UI of the Parts page is valuable and we will make sure to bring it to the attention of our Product team.

Thank you again for taking the time to submit your feedback as we are always looking for ways to improve the app and make our customer's workflows as seamless as possible.

Have a great day!

Beantwortet am 14.11.2019
Branche: Bankwesen
Unternehmensgröße: 2–10 Mitarbeiter

Wöchentlich

für

1-5 Monate

genutzt
Quelle der Bewertung
Preis-Leistungs-Verhältnis
4
---
Great tool to Manage your Assets
Our overall experience using UpKeep is very good because this solution has provided accountability and transparency in the use of our assets (owned and rented)
Vorteile
This is a great solution to manage the assets, we were having issues controlling the location and distribution of our rented laptops and electronic equipment provided to consultants, after implementing the solution we were able to locate, manage and renew our equipment without effort. We also use it to track work orders because their reporting capabilities work very good with out ERP.
Nachteile
The main con would be its price, $45 per user is a little high for many small businesses budget. Since this is an important tool the training in using it is a little hard but necessary. In addition we believe the permissions management needs a little more work.
Warum UpKeep gewählt wurde
We made the switch because we needed a robust application that were able to track our assets and work with our ERP.
Gründe für den Wechsel zu UpKeep
We have chosen UpKeep because in our analysis the cost / benefit ratio was the highest.
Branche: Lebensmittelproduktion
Unternehmensgröße: 51–200 Mitarbeiter

Täglich

für

Mehr als 1 Jahr

genutzt
Quelle der Bewertung
Preis-Leistungs-Verhältnis
5
---
Best management tool to have
I have been using UPKEEP for about 2 years. 8 months as the ADMIN. easy to set up, and let my team what is going on with the machines.
Vorteile
This product is very easy to use and train others on how to apply it.
Nachteile
I cant think of anything I would change.
Branche: Eventservice
Unternehmensgröße: 11–50 Mitarbeiter

Täglich

für

Mehr als 1 Jahr

genutzt
Quelle der Bewertung
Preis-Leistungs-Verhältnis
4
---
A very strong start, but a long way to go yet.
We all like it, but the glitches are too slow at being corrected. I really don't want to switch companies but it has come up recently. I like working with the support team, they always seem very willing to help. Unfortunately the solutions they provide are hardly ever agreeable with me. I think that is usually no fault of theirs, but rather that we keep reaching the end of the program's capabilities. That is frustrating for me.
Vorteile
I really love the layout and the ease of use. I also appreciate the diverse application to many different uses. The fact that you can access it from a phone or a computer is amazing. Very convenient that way.
Nachteile
RECURRING WORK ORDERS! There are so many glitches when you start making work orders recur. I've tried my best to provide feedback on this because it is really starting to be a deal breaker but the problems continue.
1) duplicates pop up constantly and they don't go away easily.
2) The scheduling options for recurring work orders is totally bad. Model it after Google Calendar first, then add options to make it more detailed. The fact that you can't schedule seasonal tasks without some silly back-end procedure to duplicate the work orders every year is highly frustrating.
3) Gonna need a little more flexibility in the different categories of user. My techs need to be able to create their own work orders without being a complete access administrator. There should be something in between. I trust my guys and they know their jobs, I don't need to make all their work orders for them.
4) I'd like to see some improvement in the template modules. I've not been able to benefit from them realistically even though I've tried. When you go to add them into a work order it just never seems to make much sense.
Branche: Buchhaltung
Unternehmensgröße: 2–10 Mitarbeiter

Täglich

für

Mehr als 2 Jahre

genutzt
Quelle der Bewertung
Preis-Leistungs-Verhältnis
4
---
UpKeep: An intuitive and complete maintenance management solution
UpKeep is a very complete and easy to use maintenance management software that allows companies to track and manage their maintenance operations efficiently.Key features of the software include work order management, job scheduling, asset and inventory tracking, inventory management, equipment management, vendor and supply management, and report generation.UpKeep also has a mobile app that gives service technicians access to work orders, instructions, and maintenance histories, even when they're on the go. In addition, the real-time tracking feature allows companies to monitor the status of maintenance tasks and react quickly in case of problems.The software is easy to install and use, even for companies without deep technical knowledge. The user interface is intuitive and well-designed, and customer service is responsive and helpful.In summary, UpKeep is an excellent choice for companies looking to optimize their maintenance operations and improve their productivity. The software is reliable, easy to use, and offers many features that can help companies track their assets and maintenance tasks efficiently.
Vorteile
UpKeep is a maintenance management software that offers many advantages for companies. Here are some of the highlights of UpKeep software:Friendly User Interface: UpKeep has an intuitive user interface that makes it easy to navigate and use all of the software's features. Users can easily access maintenance and equipment information, schedule jobs, track job status, and generate reports.Job Management: UpKeep helps manage maintenance jobs efficiently by assigning jobs to specific technicians, tracking job status, and sending notifications for job updates or changes.Asset Tracking: UpKeep allows users to track asset history, save credentials, track maintenance costs, and schedule preventive maintenance.Reporting Features: UpKeep has many reporting features that allow you to generate reports on maintenance status, costs, response times, and turnaround times. These reports can be useful for performance analysis, process optimization and decision making.Quality Customer Support: UpKeep offers excellent customer support, with a dedicated support team to help customers resolve technical issues, answer questions, and provide information on software features and updates.In summary, UpKeep is a complete and easy-to-use maintenance management software, which can help companies to effectively manage their maintenance, improve performance and optimize processes.
Nachteile
Although the UpKeep software has many advantages, here are some of the weak points that some users may encounter:Cost: The cost of UpKeep can be a barrier for some businesses, especially small businesses or start-ups. Subscription plans can be quite expensive, depending on the number of users and the features needed.Limited features in basic subscription plans: UpKeep's more advanced features are only available in more expensive subscription plans, which can be a drawback for businesses that need these features but don't can't afford the extra cost.Limited integration: Although UpKeep can be integrated with other systems, the integration can be limited, which can make it difficult for some companies to synchronize maintenance data with other systems.Learning curve: For some users, UpKeep can have a relatively long learning curve due to the variety of features and options available. This can make it difficult for users new to the platform to get to grips with all the features.Occasional bugs: Although rare, some users have reported occasional issues with app bugs or crashes, which can affect reliability and user experience.In conclusion, UpKeep is a good maintenance management software with many advantages, but high costs, limited features in basic subscription plans, limited integration, learning curve and occasional bugs can be drawbacks for some users.