Über Mighty Networks
Mighty Networks is a cloud-based social networking platform designed to help marketing teams create targeted landing pages, track leads and connect with clients on a centralized dashboard. It enables members to gain information about upcoming products or new courses by joining relevant communities. Features of Mighty Networks include payment processing, member profiling or categorization, direct messaging, personal activity feeds, polling, event post publishing, topic-based discussions and more. It allows users to access multiple business accounts and build networks by adding unlimited members. Additionally, mobile applications for Android and iOS devices let users directly send private messages to followers, receive real-time notifications on posts and share photos in communities, even from remote locations. Mighty Networks connects with Zapier to facilitate integration with various third-party payment or marketing platforms including Stripe, Memberful and Mailchimp. Pricing is available on a monthly or annual subscription and support is extended via phone and email.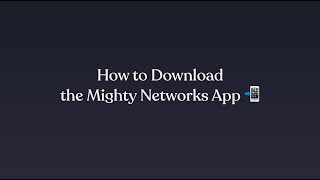 Mighty Networks bietet keine Gratisversion, aber eine kostenlose Testversion. Die kostenpflichtige Version von Mighty Networks ist ab 23,00 $/Monat verfügbar.
Startpreis:
23,00 $/Monat
Kostenlose Testversion:
Ja
Alternativen für Mighty Networks
Mighty Networks Erfahrungen
Branche: Gesundheit, Wellness & Fitness
Unternehmensgröße: 2-10 Mitarbeiter

Täglich

für

1-5 Monate

genutzt
Quelle der Bewertung
Preis-Leistungs-Verhältnis
5
---
Haven't regret the move for one second
Vorteile
In a matter of weeks we were ready to launch our new community with several existing online courses moved over. Producing content is very easy. To get everything in one was very valuable for us - course platform with payed or free courses, enrolment and drip feed as well as a community platform with the ability to interact with other members. Available as apple and android app, our members can all of the sudden access their courses from their phone, without us having to develop and maintain two apps ourselves. Huge.
Nachteile
There are still features that we are hoping will get there. Like more drip feed settings and the ability to give a member access to a whole course at once even if it's drip fed to mention two. But we have made it work with existing features and the value largely overcomes some details we hope will be available in the future.
Antwort von

Mighty Networks

So glad to hear that this has been a successful transition for you Eva, and that you and your members are taking advantage of the native mobile apps. We look forward to continuing to support you with more upgrades to features in the future!

Beantwortet am 10.7.2020
Branche: Kunst & Handwerk
Unternehmensgröße: Selbstständig

Täglich

für

Mehr als 1 Jahr

genutzt
Quelle der Bewertung
Preis-Leistungs-Verhältnis
5
---
Mighty Networks is fantastic for e-schools
I started out with a free membership, and jumped into the paid version after my LMS system was hacked on my Wordpress site. I love the security that comes with Mighty Networks! I have evolved and grown with my Mighty Network and experimented with features with my community, and I appreciate the flexibility of Mighty Networks. I'm in for life!
Vorteile
I love the intimate community and intuitive layout of Mighty Networks. It evolves with your community or school curriculum.
Nachteile
I REALLY wish I could make an album/gallery and that my student could too. It would be SO much easier for them to share their artwork and see thumbnail views at a glance. I've worked around it and students make articles instead and add photos. But many of my students have asked for an album feature or the ability to post multiple pictures to a post.
Branche: Medizinische Praxis
Unternehmensgröße: 2-10 Mitarbeiter

Weitere

für

Mehr als 1 Jahr

genutzt
Quelle der Bewertung
Preis-Leistungs-Verhältnis
3
---
A good start
I wish I had more impact on the features needed to run a group my size.
Vorteile
Event/calendar feature was the most helpful for our needs.
Nachteile
It was overwhelming to my users, hard to find conversations and if they didn't check in regularly, they felt lost. As our group grew larger than 20 it became harder to harder to use for conversations and collaboration.
Antwort von

Mighty Networks

Hi Judith! We're always looking for feedback like this. We have big chat improvements coming later this year as well that will have some of the chat functionality you like with Slack. Let us know about any other specific feature asks and we can share them with the product team.

Beantwortet am 21.7.2021
Branche: Professionelles Training & Coaching
Unternehmensgröße: 2-10 Mitarbeiter

Täglich

für

Mehr als 2 Jahre

genutzt
Quelle der Bewertung
Preis-Leistungs-Verhältnis
5
---
Terrific for Creators and Community
Our goal was to create a global community committed to leadership and career development. One where privacy was assured and time zones could be easily spanned. The option of delivering courses in various formats along with posting content and other events makes MN the perfect platform for reaching our goal.
Vorteile
Mighty Network (MN) is an extremely robust platform for creating and nurturing a community of people with shared interests and a focus on transformation of some kind. It offers a wide range of options and a terrific support team of MN employees and other users. The design is values-driven and the MN team are constantly enhancing it for ease of use and functionality.
Nachteile
The wide ranging options made start-up a bit complicated, but that was handled well by the support team, the Community Design course and the generous comments of other users.
Branche: Unternehmensberatung
Unternehmensgröße: 2-10 Mitarbeiter

Täglich

für

6-12 Monate

genutzt
Quelle der Bewertung
Preis-Leistungs-Verhältnis
5
---
Perfect for running my online mastermind community
Vorteile
Mighty Networks is great because it just makes sense for building online communities OUTSIDE of facebook or LinkedIn etc.
Nachteile
I do not have anything I like the least... Mighty offers an online community for me to interact with other community builders and employees of Mighty Networks. They truly answer all questions and teach me a lot.