Über Quickbase
Quick Base ist eine Low-Code-Anwendungsentwicklungsplattform, mit der Unternehmen Informationen, Personen und Workflows im Vertrieb auf einer einzigen, cloudbasierten Plattform vereinen können. Mit Quick Base kannst du Anwendungen erstellen, die deinen individuellen Prozessen entsprechen. Nutzer können Anwendungen in Quick Base erstellen, um nahezu jeden Prozess zu verwalten. Dabei können sie mit einer Vorlage beginnen oder mit grundlegenden Kenntnissen über Datenbanken und Point-and-Click-Funktionen neue erstellen. Mit Quick Base kannst du auch Daten und Informationen aus deinen kritischen Systemen – wie ERP (Enterprise Resource Planning) oder CRM – abrufen und dynamische Dashboards gestalten, die in Echtzeit aktualisiert werden. Quick Base bietet seinen Kunden die Möglichkeit, Anwendungen selbst mit grundlegen Kenntnissen über relationale Datenbanken zu erstellen. Organisationen können allerdings auch Quick-Base-Dienstleistungen verwenden, um bei der Anwendungserstellung zusammenzuarbeiten.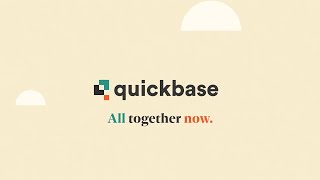 Quickbase bietet keine Gratisversion, aber eine kostenlose Testversion. Die kostenpflichtige Version von Quickbase ist ab 600,00 $/Jahr verfügbar.
Startpreis:
600,00 $/Jahr
Kostenlose Testversion:
Ja
Alternativen für Quickbase
Branche: Informationstechnologie & -dienste
Unternehmensgröße: 2–10 Mitarbeiter
Quelle der Bewertung
Preis-Leistungs-Verhältnis
5
---
Quickbase: the the missing link between applications and and business owners
I have used Quickbase for about 2 years now, and I have needed to create the application for my company from scratch.
After having dabbled with the likes of designing a SQL or Access database, to creating a seemingly easier FileMaker application, Quickbase ended up winning those, hands down.
From a UI/UX perspective, Quickbase is a very intuitive products. You will immediately notice the attention to detail in designing this product the very first time you run into an error in a formula, or any design element. All feedback from the application is so detailed to the point where it practically resolves the issue for you. No other application has ever done that for me.
Furthermore, it allows even a non-technical user create fairly complex applications that are far from achievable using a normal database product.
Even if you are looking to create certain more advanced functionality in Quickbase, for instance, interacting with other applications via the API, you have native connectors within Quickbase which is constantly growing, and you can use applications like Zapier to further than integration without requiring any programming knowledge.
I can write about the benefits of this application for pages, but, I will just say that, if you are drowning in Excel sheets to run your business, and have no way to link your data in an elegant way, do yourself a favor, and check out Quickbase for this purpose.
Vorteile
- Easy of use (Great UI/UX)
- Flexible Interface
- Scalable
- Supports a full API for integration to virtually any other application
- Allows for scaling to a multi-user application, allowing for complex workflows to match business process.
- It's a mature product, which means that you would hard pressed to ask a question that hasn't already been answered by one of the Quickbase geniuses in the community forums.
- The community support is fantastic, and their support is very quick and efficient.
Nachteile
- Reports are not easily formattable. So, if you want to send out reports to your clients, or internally within the company, you would have to resort to 3rd party tools to allow for such functionality.
I'm hoping that Quickbase will work on this particular aspect of their reporting in future releases.
Antwort von

Quickbase

Thanks for the fantastic review, George! Glad to hear QuickBase is working for you and your organization. We are always working to enhance QuickBase -- including updating our reporting options -- so please stay tuned for great new features in the future!

Beantwortet am 23.2.2016
Branche: Informationstechnologie & -dienste
Unternehmensgröße: 11–50 Mitarbeiter

Täglich

für

6-12 Monate

genutzt
Quelle der Bewertung
Preis-Leistungs-Verhältnis
5
---
A Comprehensive and Cost-Effective Software Platform: My Review of Quickbase
Overall, Quickbase has been very useful in helping us to create custom games and applications quickly and easily. It has enabled us to create custom forms and reports, allowing us to collect and analyze data more effectively. Additionally, the cloud-based platform has allowed us to access our data from anywhere, making it a great tool for remote teams. Finally, the API has allowed us to integrate Quickbase with our existing business processes, providing us with a powerful, efficient solution.
Vorteile
I like that Quickbase is easy to use and highly customizable. It is a great tool for creating custom games with a wide range of features and options, including mobile access and an API for developers. It also has a great support system and helpful tutorials to help you get started. The fact that it is cloud-based also makes it very convenient and accessible.
Nachteile
One of the things I like least about Quickbase is that it can be difficult to integrate with existing business processes. It also can be challenging to set up custom forms and reports. Additionally, the mobile access feature is not as robust as I would like it to be. Additionally, there are some features that I feel are missing, such as the ability to customize the user interface.
Warum Quickbase gewählt wurde
We made the switch to Quickbase because of its ease of use and customizable features. We wanted a platform that would allow us to quickly create and manage our data and applications, and Quickbase was the perfect fit. Additionally, the cloud-based platform made it easy to access our data from anywhere, and the API allowed us to integrate with our existing business processes.
Gründe für den Wechsel zu Quickbase
I considered a few alternatives when purchasing Quickbase, including Zoho, Salesforce, and Microsoft Dynamics. However, we chose Quickbase because it offered the most customizable features and was the most cost-effective option. Additionally, Quickbase had a great support system and helpful tutorials to help us get started, and the cloud-based platform made it easy to access our data from anywhere.
Branche: Telekommunikation
Unternehmensgröße: 1.001–5.000 Mitarbeiter

Täglich

für

Mehr als 1 Jahr

genutzt
Quelle der Bewertung
Preis-Leistungs-Verhältnis
0
---
Quickbase Review
Vorteile
Quickbase allows developers to customize the apps, forms, tables, and fields to best fit our application. It allows us to use coding to achieve some cool code pages and buttons within our apps. In addition, Quickbase continues to make improvements to the ease of use both within the apps and the Pipelines. Adding drag and drop features allows us to make changes quicker than we did before when we had to remove and re add.
Nachteile
Additional Pipeline tags would be a nice feature to have. Right now we are limited on the number of tags we can have for our Pipelines. Additionally, it is difficult to remove old tags as you have to go through each individual Pipeline and remove the tag. This is especially difficult for companies with hundreds of Pipelines such as ourselves. Additionally, we would like to see some of our support cases gain more traction. There have been numerous times where we submit an issue and the ticket either gets ghosted after the first communication, or the ticket just gets closed with no explanation. Currently there is an issue where our users can see the fields under a tab that is "hidden".Finally, it would be beneficial to be able to see more helpful details in the field usage page, especially with Pipelines. It tells you if it is used in one but there is no easy way to find that Pipeline from the information given.
Branche: Finanzdienstleistungen
Unternehmensgröße: 11–50 Mitarbeiter

Täglich

für

Mehr als 2 Jahre

genutzt
Quelle der Bewertung
Preis-Leistungs-Verhältnis
1
---
Disturbing Relationship with a company that should be there for your success
In the begining, we started using the app. everything was great until about a year in. im not happy and for the investment, take my advise, SPEND the Extra money and just use Salesforce they arent the best platform for no good reasons. we have already started using Salesforce and have befitted from the switch Greatly.
Vorteile
This App is basically an excel sheet on steroids.
Nachteile
The app takes you through multiple steps to save, add or edit an app page. When it comes to process, this app will make you click "Edit" then once you enter your data you have to click "save". The "premier" users or platinum users is ok but when you try to speak to them, all you get is "good luck going else where" . The fact is, they will lure you in, but lets face it. once you move your database in, they count on you not moving it out.
Branche: Telekommunikation
Unternehmensgröße: 1.001–5.000 Mitarbeiter

Täglich

für

Mehr als 2 Jahre

genutzt
Quelle der Bewertung
Preis-Leistungs-Verhältnis
4
---
Quickbase: The Low-Code/No Code Platform that Gets Results!
Overall, Quickbase has done a good job at eliminating multiple spreadsheets that were previously used for project management. They are very receptive to clients' needs and actively encourage product feedback, so they continue to morph the product into an even better one.
Vorteile
Quickbase makes it simple to develop new applications and reports as the business needs change. The UI can be customized as much as you're willing to take it and it certainly beats having to use a spreadsheet!
Nachteile
Their Pipelines product (formerly CloudPipes) is a good way to automate processes within other QB applications as well as external systems, but it's still missing some features that are very nice to have (like real-time error processing and ways to rerun only certain failed steps).