Über ShortStack
ShortStack ist eine cloudbasierte Lösung zur Kampagnenerstellung. Die Lösung hilft mit verschiedenen Widgets, Themen und Vorlagen bei der Gestaltung von Kampagnen. ShortStack wird verwendet, um Gewinnspiele, Wettbewerbe, Zielseiten, Sonderangebote und nutzerdefinierte Formulare für Kampagnen zu erstellen. Die Lösung enthält Funktionen wie Handlungsaufforderungen, mit denen Nutzer die Kontaktinformationen von Besuchenden über Zielseiten erfassen können. Ferner ermöglicht sie Besuchenden, ihre Details auf der Seite einzugeben. Im Gegenzug können diese auf Sonderangebote wie E-Books, Rabattcodes oder Werbegeschenke zugreifen. Die Zielseiten von ShortStack bieten anpassbare Vorlagen. Sie können Widgets wie Formulare, Umfragen und Galerien enthalten. Darüber hinaus können Nutzer ihre Seiten mit verschiedenen Farben und Schriftarten anpassen. Das Unternehmen bietet seine Dienste auf monatlicher Abonnementbasis an und der Support erfolgt per E-Mail, über Community-Foren und Hilfedokumente.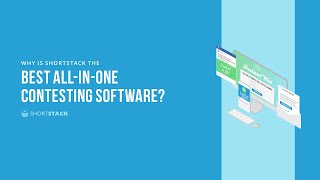 ShortStack bietet keine Gratisversion, aber eine kostenlose Testversion. Die kostenpflichtige Version von ShortStack ist ab 99,00 $/Monat verfügbar.
Startpreis:
99,00 $/Monat
Kostenlose Testversion:
Ja
Alternativen für ShortStack
Branche: Marketing & Werbung
Unternehmensgröße: 2–10 Mitarbeiter

Monatlich

für

6-12 Monate

genutzt
Quelle der Bewertung
Preis-Leistungs-Verhältnis
4
---
The software works great, your target audience may not
So far, it's been great. Customer service was excellent both before and after I made my purchase. Software works wonderfully. I would recommend their service with the proviso that you need to target a responsive audience.
Vorteile
Easy to put together a promo, lots of templates to choose from, lots of different types of promotions to run
Nachteile
It's not the software - it's the audience that can be problematic. I've run 3 different refer-a-friend promos. One was pretty good, one was so-so, and one went downright terrible. Again, the software worked flawlessly! It was the audiences that really determined how things worked. You need to start out with a large initial email list, or a large reach with an extremely targeted message to get the audience you want to respond.
Antwort von

ShortStack

Wow! Thanks so much, Scott! We're so glad ShortStack has worked well for you (functionally speaking). If you ever need advice or questions about best practices, it wouldn't hurt to give us a shout ([email protected]). Thanks again!

Beantwortet am 29.1.2019
Branche: Bildungsmanagement
Unternehmensgröße: 51–200 Mitarbeiter

Monatlich

für

6-12 Monate

genutzt
Quelle der Bewertung
Preis-Leistungs-Verhältnis
5
---
A great solution for those running contests
We are in a very niche market and we rarely run contests outside of social media giveaways, but I needed a good option for allowing our customers to enter using multiple platforms (i.e. Facebook, Youtube, submitting images, etc.). I looked at quite a few options and even tried out some other ones but ShortStack was by far the easiest to use AND offered the most versatility for the price. Because we do these types of contests so rarely, I actually did end up cancelling my account so that we weren't paying for a service that we didn't use, but for the time period that we needed it, ShortStack was great.
Vorteile
I chose ShortStack because we needed a platform that would allow multiple types of entries--everything from viewing a Youtube video to following us on social media to uploading images. Of the different software programs that I viewed or tried, ShortStack had the most versatility, was the most user-friendly, and had the best price point.
Nachteile
At first, it was kind of difficult to navigate all the different options and figure out how to create the contests that I wanted to. It took some playing around with, but I think compared to some of the other platforms I looked at, it was still more user-friendly.
Antwort von

ShortStack

Thanks for your feedback, Kelli! I'm so glad ShortStack was such a good fit for you.

Beantwortet am 2.3.2020
Branche: E-Learning
Unternehmensgröße: 201–500 Mitarbeiter

Weitere

für

6-12 Monate

genutzt
Quelle der Bewertung
Preis-Leistungs-Verhältnis
0
---
ShortStack is good, but has low limits on entries
Vorteile
-fairly easy to use
-easy to scale up
-the variety of ready made templates and the ability to customise them
Nachteile
don't like the fact that you are limited on :
- views
- entries
i understand having a limit on the lower tier plans, but in the full plan, having limitations on the amount o page views and or entries on the account seems rather unprofessional to me.
And this is a model i've seen to almost every software on the market that handles competitions ( i.e wishpond).
They really should think about removing entry limits, at least on their full package, else if a company wants to create a high traffic competition and then replicate it, it will most probably mean it will need a new account..
Antwort von

ShortStack

Hi George! We really appreciate your feedback! We always take customer feedback very seriously. In reference to your suggestion, we totally hear what you're saying! We offer Enterprise plans with no entry or view limits - this is something that can be discussed with our sales team. We're absolutely willing to accommodate as many entries/views you're able to acquire, but due to the resources these higher view/entry numbers require on our end, we have to charge a little more. Thanks again for your review!

Beantwortet am 23.8.2019
Branche: Internet
Unternehmensgröße: 51–200 Mitarbeiter

Weitere

für

Mehr als 2 Jahre

genutzt
Quelle der Bewertung
Preis-Leistungs-Verhältnis
5
---
Plug & Play - Mostly. Enjoyed the Features
I used Shortstack multiple times to run contests around email collection and was pleased with the results. It was easy to implement and after a few rough starts, was fairly easy to construct a campaign.
Vorteile
After creating everything at Shortstack, it was really easy to implement on my side. I implemented a campaign on both Magento and Shopify with absolutely no problem. It worked well the entire time it was live.
Nachteile
Getting started for the first time was a little complicated/confusing. I wasn't sure what to do and had to restart my project a few times after not being sure what I was doing. After I figured it out though, no problem.
Antwort von

ShortStack

Thanks so much! We really appreciate your stellar review.

Beantwortet am 30.7.2018
Branche: Finanzdienstleistungen
Unternehmensgröße: 201–500 Mitarbeiter

Wöchentlich

für

Mehr als 2 Jahre

genutzt
Quelle der Bewertung
Preis-Leistungs-Verhältnis
3
---
Great Way to Get in the Giveaway Game
Vorteile
Easy to start, learn and implement in an hour or less. Intuitive interface with a small learning curve.
Nachteile
The updates are often excessive leaving the user wondering if they should pause the campaign, and update, or leave alone...
Antwort von

ShortStack

Thanks so much for your feedback! We're so glad you are loving the ShortStack platform. In the future, you can push an update(s) in the middle of running a campaign - no need to pause it.

Beantwortet am 27.7.2018